What are You Looking for From Your Brokerage?
Real Estate agents work hard for their clients, that's why they deserve the best Tools, Technology, Training, and Support to run their business. e-Merge Real Estate is committed to being a lead brokerage offering the most knowledge, best technology, and unparalleled support.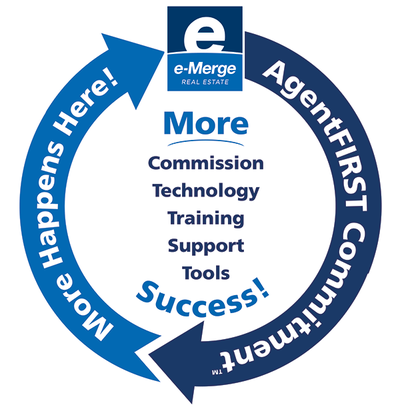 True 100% Commission
At e-Merge Real Estate, agents come FIRST.
We are 100% committed to giving you MORE.
MORE Tools.
MORE Technology.
MORE Training.
MORE Support.
Enjoy MORE RESULTS and 100% Commission.
Hear From Our Agents
At e-Merge Real Estate, we work hard to help agents soar in their career as realtors. We have a culture where agents are valued and enjoy their work every day. Don't just take our word for it, take a moment to hear what out agents have to say about partnering with e-Merge Real Estate!
REVIEWS
What Our Agents Say
5 Star Rating
98% Recommendation Rating
98% Performance Rating


"e-Merge Real Estate is the best place to work, and they have the best agents in real estate. If you are looking for help in real estate, e-Merge Real Estate will take the best care of you. If you are looking for the right brokerage for you, e-Merge has the best commission splits, training and support. This company has a family environment and everyone has each others backs. Working at e-Merge Real Estate is the best decision I've ever made for my career."
"e-Merge is a fast growing Real Estate company, but still has the little company feel. e-Merge has so many seasoned agents with years of experience under their belts and their Real Estate knowledge is unbelievable. If you ever have a question or situation, someone is there for you. Everyone is willing to help each other! e-Merge has one of the best Mentor programs available to new and/or existing agents who need help. All the e-Merge offices are updated and beautiful, the atmosphere is so upbeat it makes you want to come to the office and be productive."
"Cant say enough good things about e-Merge- one of the best places I've ever worked at. Positive culture with great training and collaborative agents. Broker is hands on and genuinely cares about the success of the agents."
Find Out More Today!
If you are interested in how e-Merge Real Estate can help you reach your real estate career goals, complete the following form. Or, contact Katie Clark, Director of Agent Development directly at [email protected].
Fields marked with an * are required